Navy Pier Dives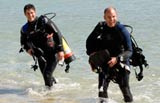 Duration: 6 Hours (approx.)
Location: Exmouth, WA
Product code: DNPdouble
The Navy Pier is a tidal dive site and some days it's possible to do two dives, others only one and each tour has a different start time based on what the tide is doing that day.
It is a great site and there are a few things to consider when booking on. It is a shore dive from a Pier and the entry is a giant stride from as high as three meters above the water surface. The exit is a three meter twenty degree ladder and divers must sign a waiver when booking to say they are physically capable of climbing the ladder with all their equipment on. At some periods of time Access will be limited to Sunday ONLY with entry via a long beach walk & swim with equipment on your back. YOU MUST BE FIT.
You must also have logged a dive within the past 12 months to dive on the Navy Pier. If you haven't done so you must do a refresher course.

With all other bookings we normally just collect a deposit but with the Navy Pier payment must be made infull when booking and sadly we cannot offer any discounts for you with the Pier dive if you book multiple tours. The single dive is $140 and the double is $200 with equipment. If you have your own equipment and only need tanks and weights the price is reduced by $10.
An additional $50 cash is also required for ENTRY on the day of the tour.
You'll also MUST take your Passport or Australian Drivers license for ID on the day of your dive** NOTE, No ID = NO DIVE**. This is on Defence Property and controlled by the Australian Federal Police
To book this dive, please select whether you need gear or not, enter your dive details and let us know your preferred dates. We'll do our best to get you on the double dive but cannot guarantee this due to the tide conditions. We require the full payment at the time of booking to secure your spot, and if there is only a single dive available we will refund you the difference. Contact us prior to booking if you have any burning questions :)
Please 'OPT IN' to receive email booking confirmations & our medical questionnaire.